CANTON, Ohio (April 4, 2023) — Innis Maggiore, the nation's leading positioning ad agency, today announced it's been named agency of record for Durham, N.C.-based Goodwill Industries of Eastern North Carolina, Inc. (GIENC®) and will assist the organization in communicating its mission.
The public relations agency will work with GIENC to develop and execute a communication strategy and help the organization plan its 60th anniversary, to be celebrated in 2024.
According to GIENC President and CEO Christopher Hash, Innis Maggiore will help to transform lives. "GIENC's goal is to continue to explore innovative ways to partner with organizations to ensure ongoing and sustainable progress in combating homelessness, food insecurity, addiction, human trafficking, poverty, healthcare disparities, and barriers to employment and education," said Hash. "We look forward to partnering with Innis Maggiore to increase awareness and understanding about the needs that exist within our communities and, ultimately, help us drive positive change through employment, education, and life-enrichment initiatives."
Jim Cyphert, director of public relations and head of Innis Maggiore's North Carolina office, says the agency is looking forward to helping GIENC make a positive impact throughout eastern North Carolina.
"We're fortunate to work with leading organizations in their respective fields," said Cyphert. "We're honored to partner with GIENC as it marks six decades of providing much-needed community support. Our positioning expertise is designed to deliver more effective results for our clients, and we're excited to create those outcomes for GIENC."
Goodwill Industries of Eastern North Carolina, Inc. (GIENC®) continues to be a leader in an era of change by providing innovative employment, educational, and life enrichment opportunities to local and regional communities throughout eastern North Carolina. Based in Durham, N.C., GIENC is affiliated with Goodwill Industries International, a network of 155 autonomous community-based organizations across the United States and Canada. GIENC provides over 450 employment opportunities within its 42 Employment Program Centers. Proceeds from Goodwill donation centers and stores fund grants given to community partners, aid in combating food insecurity and homelessness, provide free educational resources and school kits, and support employment program initiatives.
Innis Maggiore Group is recognized as America's leading positioning ad agency, building strong brand positions for companies around the world. The full-service integrated agency had 2022 capitalized billings of more than $27 million. Some of its key clients include Advanced Power, Aultman Health System, AultCare Health Plans, Babcock & Wilcox, Baird Brothers Fine Hardwoods, BellStores, The Center for Health Affairs, Encino Energy, FSBO.com, GOJO Industries (Purell), Hall of Fame Resort and Entertainment, Harris Battery, KFC/Kendall House, Kobre & Kim, Lewis Services, MID'S True Sicilian Pasta Sauce, Midwest Industrial Supply, Pipeline Packaging/Hazmatpac, SimiTree Healthcare Consulting, SmithFoods, Stark Area Regional Transit Authority (SARTA), Sunless Inc., Vern Dale Water Experts, and Young Trucks.
For more information:
Jim Cyphert
Director of Public Relations Innis Maggiore
330-492-5500, ext. 8184
[email protected]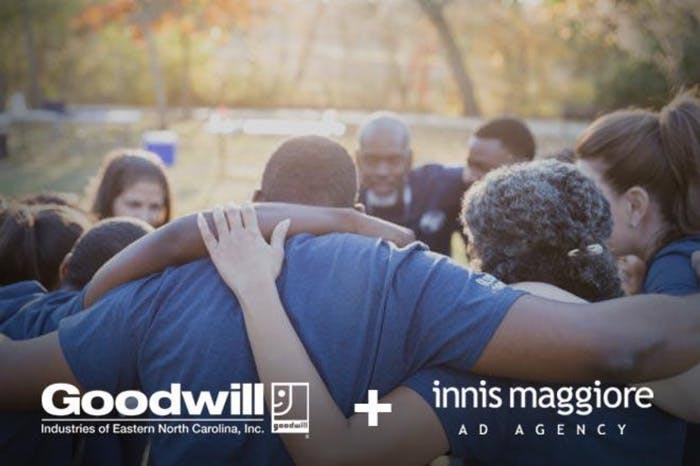 Public relations agency Innis Maggiore will support Goodwill Industries of Eastern North Carolina (GIENC®) in communicating its mission.